Have you heard about "Change For The Church " yet? The Faith Formation students are so excited about it, they made a video! YOU DON'T want to miss it!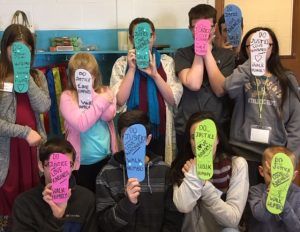 Our Faith Formation class would like to thank you for the over $1200 that we have collected so far this winter. We have filled our water jug two times with your coins to donate to World Vision for CLEAN CLOSE WATER to people who need it.
Please take another tube home and fill it up for "Change For The Church", Thank you!
Faith Formation
We're glad you've decided to find out more about our Faith Formation program.  Please join us on Sunday morning or for one of our special events scheduled throughout the year.  Whether it's an intergenerational worship service or a traditional Christmas pageant, there's a place for you at the Congregational Church of Laconia.
---
OVERVIEW
 Faith Formation begins in mid-September with   Rally Sunday and ends in late May or early June.   Each Sunday morning, Bible stories are read and discussed and children engage in a variety of   activities including music, arts & crafts and   games.  Throughout the summer months younger   children are invited to the nursery for supervised   playtime.  Older children are encouraged to   remain  in the sanctuary for the full worship service.
---
SUNDAY MORNING SCHEDULE
Families worship together in the church sanctuary beginning at 9:30 a.m. on Sunday mornings.  The first 15 - 20 minute of the worship service includes an organ prelude, choral introit, morning announcements, singing of a hymn and "Time with God's Children" (a short message).  Following the message, children and their parents are directed to leave the church and walk across the "Faith Bridge" to the Parish Hall for Faith Formation.  Parents return to the worship service which concludes between 10:15 and 10:30 a.m.   Parents are expected to pick up their children from their classrooms.
All are invited to coffee hour in Fellowship Hall (lower level of the church building) following the worship service.
We hope you can join us on Sunday morning!
---
CLASSES AND TEACHERS
The Congregational Church of Laconia is a big place!  All classes meet in the Parish Hall located across the driveway from the church building (brown 2-story structure).  The high school class meets on the first floor in the Youth Room.  All other classes meet on the second floor.  There are people and signs to help you find your way.
Church School Superintendent:  Diane Tinkham
Teachers: Bernie Chapman and Matt Fink
---
 REGISTRATION
To register for any of our Faith Formation classes please contact the church office by phone at 524-0668 (Monday - Friday/9 a.m. to 4 p.m.) or email them at .
---
QUESTIONS
If you have questions or comments about our Faith Formation program, you are encouraged to contact the Rev. Paula Gile, Associate Pastor at tel. 524-0668 or email .
---