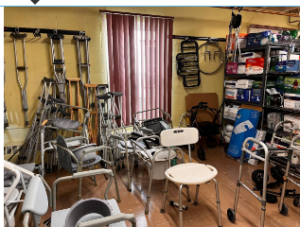 Our Lending Closet is a vital resource in the community. It is the only option for many people who suddenly or unexpectedly find themselves in need of the equipment and items available here.
Donations of clean durable medical equipment in working order are always tremendously appreciated.
Items we accept include: Wheelchairs, shower chairs and benches, rollators, transport chairs, commodes/toilet seat risers, adult diapers (unopened), antibacterial wipes(unopened), canes, grabbers, shoehorns, and sock aid tools. Items we do not accept: Needles, medications, diabetes and C-Pap supplies, beds, stairlifts. For more information, call the church at 603-524-0668. Hours are Monday, Wednesday, and Friday 9– 3 p.m.